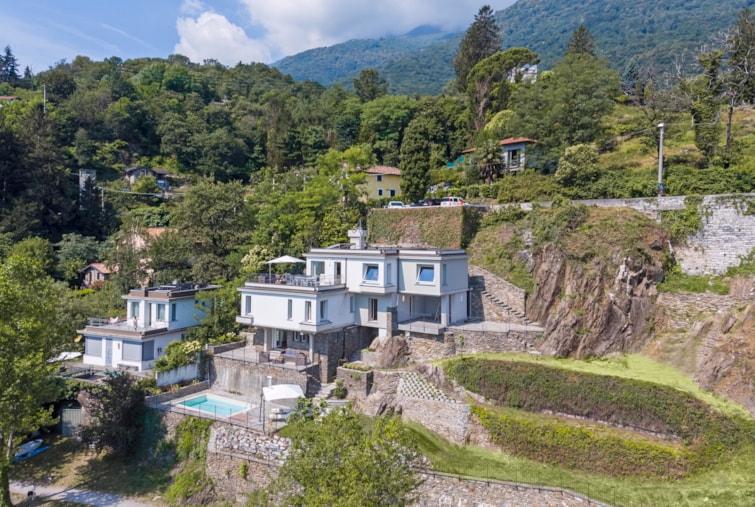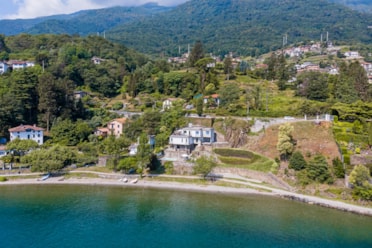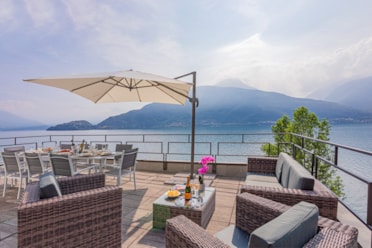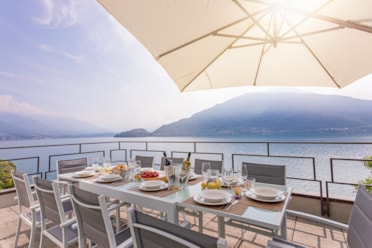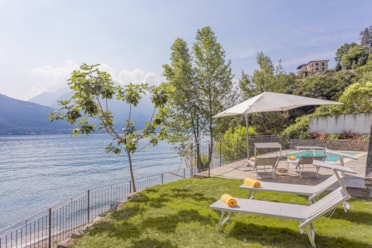 Description
Modern detached lakeside villa with breathtaking panoramic lake views, private garden and swimming pool. 
The villa contains three floors and is laid out as follows: At the top floor level (floor 2): a private entrance, a toilet (wc + sink), utility room, an open space luxurious kitchen, a modern living room with breathtaking lake views. Furthermore there's a room which could be used as a television room, large enough to accommodate a (double) sofa/bed or the room can be completely partitioned off and turned into an additional bedroom. This floor is connected to a wonderful habitable terrace with stunning panoramic lake views. A perfect location for fresco dining and to relaxe. 

At the middle floor level (floor 1): a double bedroom with walk-in closet and ensuite bathroom with shower and wc. Furthermore two double bedrooms plus additional bathroom whith bath and shower. There is also a twin bedroom with ensuite bathroom (shower). This floor is accessible via the internal staircase or separate (private) entrance from outside. All the terraces at this level are covered and are ideal for sunbathing but at the same time provides shade.At the lower floor level (floor 0): there is an independent apartment accessible via an external staircase which leads from the private entrance (floor 1). This independent area could be used as additional living space for the villa or kept as a separate guest apartment (large enough for 3/4 guests).The villa is surrounded with a spacious terraced garden (over 1000 sq m) that leads directly to the beach and contains an infinity pool and a large private parking area (located at the entrance).Additional InformationThe finishings are of excellent quality, with oak flooring in all the rooms, including the stairs. The kitchen and bathrooms have high quality tiled flooring.The villa has under floor heating system and air conditioning as well as the possibility to have an alarm system.The villa is being sold including the modern kitchen with superior quality fittings and appliances. There is also the possibility to have a private dock right in front of the villa(after permission)Elegant, stunning, fantastic are three words that barely describe this beautiful villa and is one of our most luxurious Lake Como properties for sale within our portfolio.LocationPianello del Lario is a small town, within 15 minutes driving from Menaggio, which is one one of the major towns of the lake provided with all amenities. A beautiful promenade with some nice bars and restaurants connects Pianello to the villages Cremia and Musso.Pianello is within 40 minutes drive of the Swiss town of Lugano and within 45 minutes drive of the nearest ski resort Madesimo. 

 
 
Property information
Location
An error has occurred. This application may no longer respond until reloaded.