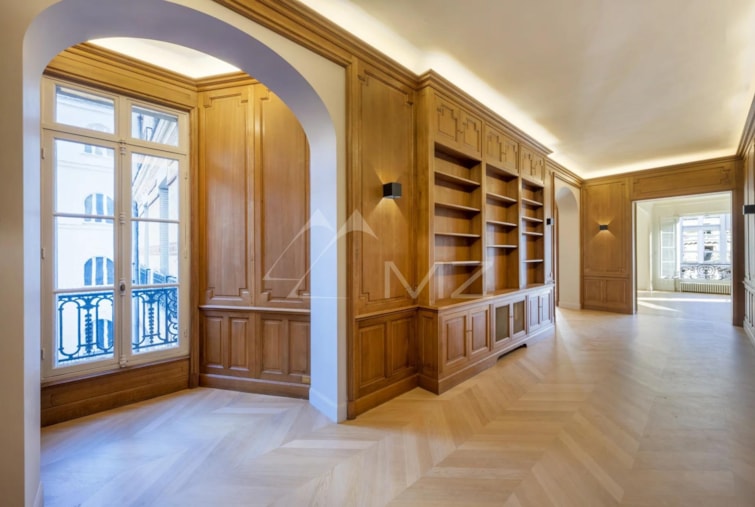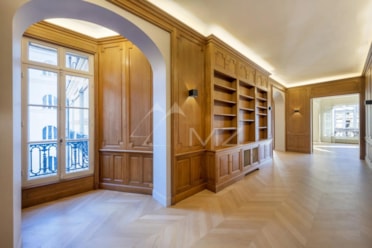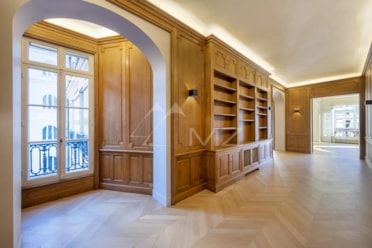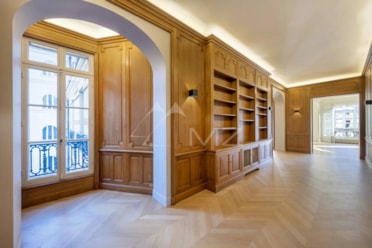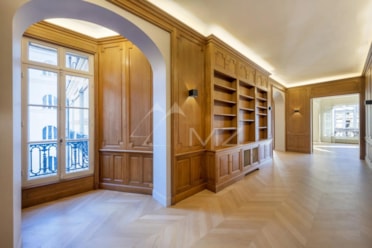 Description
Sectorization Carnot, Sainte Ursule, Fénélon, International Bilingual School. This magnificent Haussmannian apartment of approximately 270m2 is located on the 4th floor, in a luxury Haussmannian building with one property per floor.

Completely refurbished according to the rules of the art, it offers a very high-end service. The apartment benefits from a very high ceiling of 3.2 meters, it is a harmonious synthesis between the old and the contemporary. The point of Hungary and Versailles parquet, the marble fireplaces, the piers and the mouldings which adorn the walls and the ceilings make it a prestigious set of high quality.
Both reception and family apartment, it has 4 suites with an independent master suite with independent access.
Paris 17th - Av de Wagram - Haussmannian apartment 4 suites
The wood-panelled entrance offers a majestic and bright reception. It serves on the left the parental suite with its dressing room its bathroom it's WC and its second access. All the closets were custom made and fit perfectly into the ensemble. To the right, we find the double living room overlooking the avenue and the large fully equipped dining kitchen. Past the reception area, a small hallway converted into a dressing room leads to the other 3 bedrooms, each with its own shower or bathroom. The apartment is completed with a cellar and parking is available nearby.
Property information
Location
An error has occurred. This application may no longer respond until reloaded.