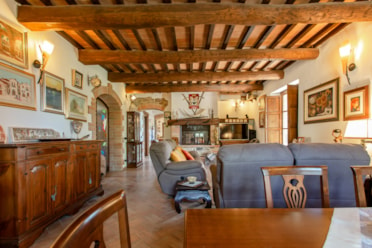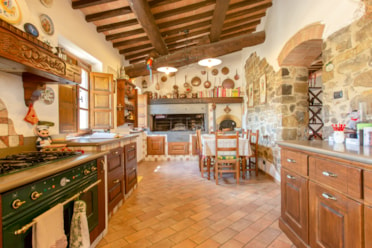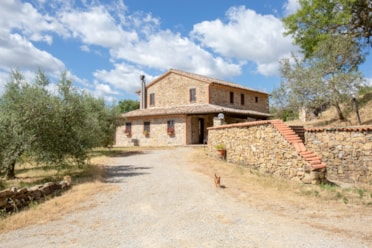 Description
This farmhouse has an area of ​​300 m² on two levels and is composed as follows: on the ground floor, with three entrances, we find a very spacious kitchen with fireplace and wood oven, a utility room, a dining room with two-sided fireplace that opens from the wide living room, a bathroom, a hallway and a large entrance from the pool; in the stairwell we find the electrical control unit; on the upper floor we have a sauna with shower on the right, followed by a bedroom with bathroom, the master bedroom (with walk-in closet, bathroom with beautiful double bath and private balcony), and a third bedroom with bathroom. In the garden we find a beautiful salt water pool, a very deep well and an outbuilding to be restored. The property comprises approximately 3ha of land with approximately 300 olive trees.
The farmhouse has been beautifully restored and fully insulated (not only the roof but also the ceilings. The underfloor heating wiring harnesses are covered with quartz sand. The property has cotto paving and chestnut beams and cotto tiles for the ceilings.
The farm is equipped with all necessary utilities, currently connected to the national or municipal electricity network: electricity, telephone with internet, city water. The heating system runs on LPG.
Property information
Location
An error has occurred. This application may no longer respond until reloaded.